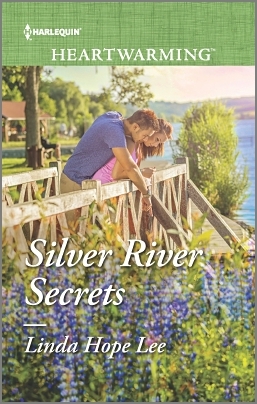 Silver River Secrets
by Linda Hope Lee
Adult Contemporary Romance
Mass Market Paperback & ebook, 384 pages
December 1st 2016 by Harlequin Heartwarming
Tragedy made them strangers. The truth could change that…
Lacey Morgan's grandmother is the only reason she has to ever set foot in Silver River. Her hometown is populated with too many ghosts and memories. Too many painful reminders. Including Rory Dalton.
In all her brief visits over the past ten years, they've barely spoken. Locked on opposite sides of the tragedy that tore their lives apart, they buried their feelings along with their parents. But this trip is different. She will stay a little longer. Dig a little deeper. And try to solve the mystery that has kept them from the truth…and each other.
Linda Hope Lee writes contemporary romance, romantic suspense, and mysteries. She enjoys traveling especially to small towns in search of story ideas. She's also an artist, specializing in watercolor, pen and ink, and colored pencil. Photography provides inspiration for both her writing and her art. She lives in the Pacific Northwest, where many of her stories are set.
EXCERPT: CHAPTER ONE, PART 3
LACEY MORGAN HEADED down Main Street with the image of Rory Dalton imprinted on her mind. She hadn't intended to look up at his auto shop when she rounded that last curve in the highway, but she had, and there he had been, gazing down at her as though he'd been waiting for her to drive by. Which was crazy. Why should he care that she'd come to town again? He knew she made the trip from Boise to Silver River periodically to visit her grandmother. When their paths crossed, they said little more than a brief "hello."
The events of that fateful day ten years ago, just a week before they both were to graduate from Silver River High, with their whole future ahead of them—a future they planned to spend together—had ripped them apart and turned them into strangers.
An overhead banner advertising the town's annual Silver River Days caught her eye. This year's dates were August 10–15. She'd be long gone by then. Cleaning out Gram's apartment and settling her into Riverview would take no more than a week, tops.
Lacey's boss at the Boise Historical Society was generous about her visits to Silver River, and especially about the extra time she needed for this trip. Even if she'd wanted to stay for the celebration—which she didn't—she wouldn't ask for more time off.
Leaving the downtown behind, Lacey was soon in the country again. Rambling mountain ranges surrounded her, and here and there the river popped into view, sparkling in the sunlight.
Another mile brought the turnoff to Sophie's Bed and Breakfast, where globe lights along the driveway guided Lacey to the Victorian-style house painted bright lavender with white trim.
She parked in the guest lot and pulled her suitcase on wheels up the flagstone walk to the porch. Several middle-aged guests sat in wicker chairs chatting and drinking iced tea. They exchanged "hellos" with Lacey as she passed by.
Tour Giveaway
– 1 winner will receive a $50 Amazon eGift Card & copy of SILVER RIVER SECRETS by Linda Hope Lee (print if US, ebook if international)