Sebastian and the Hibernauts: Beyond the Gloaming
It is Easter, 1973 and twelve year old Sebastian Duffy has some serious self-esteem issues. He is beaten by his parents, bullied at school, steals from his friends and still mourning the death of his brother. To cap it all, strange things have begun happening around him and he is finding it hard to distinguish dreams from reality. After a nightmarish assault, he wakes in the Gloaming, a shadow world inhabited by ghosts. There to greet him is Porrig, a creature from Hibercadia, a magical realm crafted from Celtic dreams. Inhabited by Fir Bolg, Tuath and Milesians, it has been overthrown by brother gods from another dreamworld. One brother, Phobitor, is a tyrant and even the Tuath, who took to their underground sidhe millennia ago, are concerned. Sebastian discovers that he alone can save Hibercadia by finding an enchanted spear. Teaming up with the Hibernauts—a mercurial sorceress, an orphaned druidess, a taciturn warrior, a snuff-sniffing leprechaun and a lovelorn poet—he embarks on a fantastical quest, but can he succeed when he is yet to find his magical potential or even his courage, and half the realm is bent on his destruction?
Amazon * Kindle * Barnes & Noble * Kobo * Book Depository
Beyond the Gloaming from Kaleb Lechowski on Vimeo.
Praise for Beyond the Gloaming
I cannot say just how much I have enjoyed this book; you are a very accomplished writer with a wonderfully rich imagination. Your use of the English language is amazing and your ability to create the many different speaking styles in the book and to maintain them is remarkable. You have an incredibly inventive mind and readers will come to love the many wonderful creations in this novel, it is jam-packed with the most wonderful and inventive characters; new, exciting and beautifully realised.
~The Oxford Editors
An imaginative epic…an intricate and fully realised fantasy world with a big cast of likeable characters that are charming, well drawn and endearing, with wonderfully apt names. The depth and breadth of your high-voltage imagination, and the richness of the world you create is very impressive.
~Sam Mills, author of Blackout, The Boys Who Saved the World, and The Quiddity of Will Self
Author Brendan Murphy
Brendan Murphy was raised in Sheffield, England, with dreams of becoming a writer, and has written every day since he was nine years old. After reading medicine in London and psychiatry in Manchester, he moved to Australia in 1999. He is an Associate Professor at Monash University and has written widely on youth mental health. His nonfiction work on the development of football in Victorian society, From Sheffield with Love, was published in 2007. He lives with his wife, Katrina, and their children, Sebastian and Violette, in a sprawling property built for the composer, Dorian Le Gallienne. They share their garden with a mob of kangaroos, a wombat, two possums, any number of creepy crawlies, and some very feisty kookaburras. In 2013, he was signed to Assent Publishing for a six-book deal. Beyond the Gloaming, the first Sebastian and the Hibernauts adventure, will be published by Assent imprint, Phantasm Books in 2014.
 Guest Post: Treasure Island
Welcome honorary Hibernauts to my guest blog. Today, I'll be discussing one of the fantastic literary figures who helped mould Sebastian. That hero is Jim Hawkins, protagonist of Robert Louis Stevenson's classic novel, Treasure Island. I devoured the illustrated copy I had as a child; dove headfirst into the swashbuckling adventure, brimming with action and jam-packed with buccaneers, treasure maps, tropical islands, doubloons, guineas and pieces of eight. I loved the atmosphere it created, an intoxicating blend of adventure and peril, the thin line between loyalty and  betrayal evident to me even as a seven year old, no better displayed than in the complicated psyche of Long John Silver, one of the greatest literary characters of my boyhood. Before Silver, the characters in the books I read had been strictly polarised along the good-evil diathesis, but here was a man who glided back and forth with alacrity. Here he is coaxing Jim with tales of derring do:
'Now, that bird, I would say, is, maybe, two hundred years old, Hawkins – they live forever mostly; and if anybody's seen more wickedness, it must be the devil himself. She's sailed with England, the great Cap'n England, the pirate. She's been at Madagascar, and at Malabar, and Surinam, and Providence, and Portobello. She was at the fishing up of the wrecked plate ships. It's there she learned 'Pieces of eight,' and little wonder; three hundred and fifty thousand of 'em, Hawkins! She was at the boarding of the viceroy of the Indies out of Goa, she was; and to look at her you would think she was a babby. But you smelt powder–didn't you, cap'n?'
What child could fail to be mesmerised? I loved him and feared him in equal measure – just as Jim did – and was truly horrified when he attacked and killed Tom, a loyal crew member.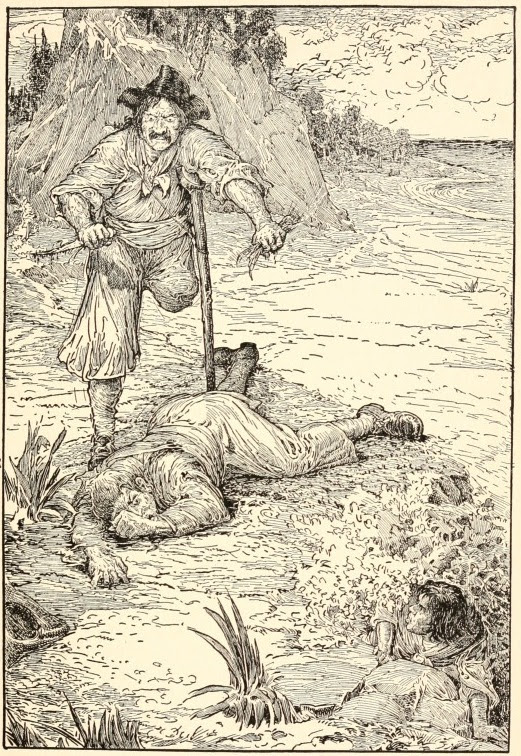 The book aroused my imagination in a way no other had done before, with the possible exception of James Thurber's The Thirteen Clocks and The Wonderful O.  The crucial difference was that the latter gems were located in a dream haze of unambiguous morals, whereas Treasure Island was well and truly planted in the real world with all its shiny cruelties. I also fell in love with the fabulous names Stevenson crafted, something I have tried hard to emulate in Sebastian and the Hibernauts. His names were simultaneously playfully gorgeous and stunningly realistic, with none of the lumpy overkill prevalent in so many Dickensian names (not that I didn't admire them too):  Billy Bones, Captain Flint, Blind Pew, Dr Livesey,  Squire Trelawney, Captain Smollett… Israel Hands. And his genius for naming was not confined to characters, as evidenced by The Admiral Benbow and that most romantically named of ships, the Hispaniola.
Jim was a hero to me principally because he was one lucky sod. Sat in the poky little bedroom I shared with my brother, I longed to be in Jim's shoes; I envied his lot and imagined there was no reason I couldn't be in his place, if only I had been born at the same time, in the same inn, and somehow pushed 'Jim lad' out of the way. He was an unremarkable boy in exceptional circumstances, surrounded by colourful characters and could have been me or any other little boy, and Stevenson no doubt wrote him this way to entice us into the story. Yet for all that, this plain boy rises to heroic status by his actions, showing every boy and girl what they, too, could be capable of if faced with similar strife. From trembling in the apple barrel as he overhears mutinous mumblings, he reaches inwards and somehow finds his courage.  Nowhere is this better illustrated than when he returns to the Hispaniola (having previously cut her adrift) and is confronted by a murderous Hands. Chased up the mizzenmast with Hands hot on his heels – knife wedged between pirate fangs – Jim turns and challenges his assailant,  'One More Step, Mr. Hands, And I'll Blow Your Brains Out'. Where did he find such cool reserve? Sure, he was trembling like a leaf, but his combination of genteel manners and deadly resolve was just so utterly dashing. Of course, Hands assumes he's bluffing, only to be blasted from the rigging and into Davy Jones' Locker.
I read Treasure Island repeatedly as a boy, its magic reinforced by Disney's titular romp, though the film paled in comparison, its saving (possibly only) grace being Robert Newton's Silver, the template for all future pirates. (Having loved Newton ever since, I found him at his best as the irrepressible Frank Gibbons in Lean's adaptation of Coward's This Happy Breed)
So there you have it. Even today, I thrill at the words Treasure Island, my mind conjuring up a storm of piratical imagery. And who can fail to be delighted by the marooned Ben Gunn's wistful words: 'Many's the long night I've dreamed of cheese – toasted, mostly.'
Blog Tour Giveaway
$25 Amazon Gift Card or Paypal Cash
Ends 11/28/14
Open only to those who can legally enter, receive and use an Amazon.com Gift Code or Paypal Cash. Winning Entry will be verified prior to prize being awarded. No purchase necessary. You must be 18 or older to enter or have your parent enter for you. The winner will be chosen by rafflecopter and announced here as well as emailed and will have 48 hours to respond or a new winner will be chosen. This giveaway is in no way associated with Facebook, Twitter, Rafflecopter or any other entity unless otherwise specified. The number of eligible entries received determines the odds of winning. Giveaway was organized by Kathy from I Am A Reader and sponsored by the author. VOID WHERE PROHIBITED BY LAW.