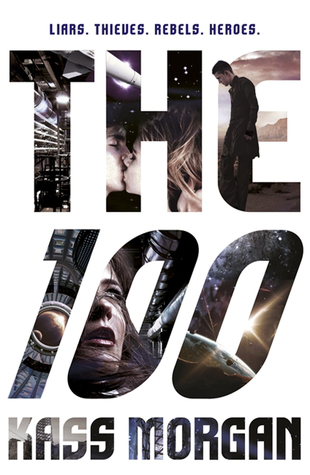 Title: The 100
Author: Kass Morgan
Series: The Hundred #1
Publisher: Little, Brown Books
Release Date: September 3, 2013
Website: http://alloyentertainment.com/authors/kass-morgan/kass-morgan-2/
Book Summary:
In the future, humans live in city-like spaceships orbiting far above Earth's toxic atmosphere. No one knows when, or even if, the long-abandoned planet will be habitable again. But faced with dwindling resources and a growing populace, government leaders know they must reclaim their homeland… before it's too late.


Now, one hundred juvenile delinquents are being sent on a high-stakes mission to recolonize Earth. After a brutal crash landing, the teens arrive on a savagely beautiful planet they've only seen from space. Confronting the dangers of this rugged new world, they struggle to form a tentative community. But they're haunted by their past and uncertain about the future. To survive, they must learn to trust – and even love – again.
Ok lets get one thing straight, this has nothing to do with the CW series apart from the same title, character names, and very basic premise.  I had binged watched the first season on Netflix and really enjoyed it.  I then tracked down the novel at my local library and dove into it hoping for a little expansion on the world created by the CW.  Well that was not what I got at all!
Now that I got that out of the way, let's continue.  I really enjoyed this novel.  You're thrown into the world from multiple character's point of view.  There's Clarke, Glass, Bellamy, and Wells.  Each one I found to be well developed and well rounded.  They explain each character's back story through flashbacks and interaction with each other.  I found the flashbacks worked relatively well and were well integrated into the flow of the story.  There was no point where I asked "well why did you just throw that in there?  That made no sense".  I felt everyone had enough exposure time to allow us to get invested in their stories and opinions.  I didn't mind any of the main characters – although at first I thought Glass was pretty pointless, but eventually came around to understand the purpose of keeping her.  Clarke, Bellamy, and Wells all ended up on the ship heading to Earth for the first time in centuries, while Glass escaped and remained on the main ship.  This way, it kept the reader aware of what was happening on the ship.  Glass's story was actually well woven into the other three's stories – whether they were remembering something about the life on the main ship or she was wondering about them – they never felt like two separate stories.
I will admit there were times where I thought it was a little far-fetched or unrealistic.  Yes, this is a Sci-Fi novel, but the actions of some of the teenage characters (none are over the age of 17 – except maybe Bellamy) seemed unlikely.  For example, I found that Clarke was extremely  claim and very educated when it came to handling medical situations.  She knew what was wrong and how to fix it with no modern technology – like how can you tell there's infection in the liver or whatever if you don't have modern technology?  I know it's their first time on Earth and it would be overwhelming, but it never really felt like they were – some oohs and aahs but nothing to the extent that I was expecting – like just kill a deer no problem and rain and thunderstorms nothing but baby talk (ok not that bad but still I would freak if I never felt rain before and all of a sudden there's a thunderstorm).  There were some corny moments like "he tasted like joy and joy tasted better on earth" – really, really???  And the horrible thing that one of the characters does is ridiculous!  Why did you think that was the only option???  Trust me, the option where you don't endanger (possible kill) the entire human race is probably going to be the better one – just saying.
Besides these little rants and downfalls, this books was very enjoyable and I finished it rather quickly.  It left a very large open ending that makes me think the books were split for the sole purpose of making a trilogy rather than a stand-alone, but I enjoyed it nonetheless.  I think I benefited from reading the book after I watched the series and this is the first time I would actually recommend that order.  If I had read the book first I probably wouldn't have watched the series and enjoyed both so much.
As I said, this book and the series has very little in common so do not go into this expecting a perfect adaptation.  However, if you enjoyed the series or like YA Sci-Fi, I suggest you check it out.  I highly recommend this as a quick, non-complicated Sci-Fi.
Rating:  4/5 Stars – Great Book.
Content: pre-marital sex which results in a pregnancy and miscarriage (scenes not described), lengthy kissing, language throughout (no F word), drug addition (no real details), animal hunting, man is shot (not described), suicide, execution by lethal injection, medical experiments on children, fistfights, and attempted rape.
Source: Library Copy
This book can be purchased at Amazon, Barnes & Noble, and Chapters Indigo