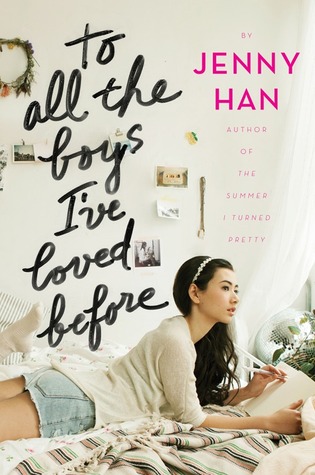 Title: To All the Boys I've Loved Before
Author: Jenny Han
Series: To All The Boys I've Loved Before #1
Publisher: Simon & Schuster
Release Date: April 15, 2014
Website: http://dearjennyhan.com/
Book Summary:
Lara Jean's love life goes from imaginary to out of control in this heartfelt novel from the New York Times bestselling author of The Summer I Turned Pretty series.


What if all the crushes you ever had found out how you felt about them… all at once?


Lara Jean Song keeps her love letters in a hatbox her mother gave her. They aren't love letters that anyone else wrote for her; these are ones she's written. One for every boy she's ever loved—five in all. When she writes, she pours out her heart and soul and says all the things she would never say in real life, because her letters are for her eyes only. Until the day her secret letters are mailed, and suddenly, Lara Jean's love life goes from imaginary to out of control
This was such a cute book!  I seem to be reading a lot of those lately – I`ll blame it on the warm, finally summer, weather!  It read like a nice fluffy cloud – does that sound bad?  What I mean is, the book had a nice flow to it and never felt over done or heavy.  I was constantly smiling while reading this book – that's how cute it was!  Lara Jean wrote letters to the boys she's loved but never told.  Those letters get mailed out mysteriously and the five boys (Peter, Josh, and three non-main characters) confront her with them.  To avoid the feelings she doesn't want to admit to, she decides to fake-date Peter.
Lara Jean is a little innocent for her age, which was nice.  It was nice not having the main character constantly be worried about sex or having it.  The idea of writing letters to boys you love and never told sounds so innocent and fresh – I just loved the idea!  To go through the emotions Lara Jean go through was fun.  She's one of the more emotional characters I've read – without being unnecessarily or ridiculous in the reactions.  She does maybe over react to the situation looking at it from an adult's perspective – but if you ever remember what it's like being a 16 year old girl, well let's just say she didn't go far enough (jk).
At first, I hated Peter!  He seemed so arrogant and he was using Lara Jean and her innocent, which I guess he was.  But as time went on he became more of a character – there was more depth to him.  He was caring and helped out his family and was really good with Kitty (Lara Jean's younger sister).  He had a reputation, but he doesn't seem to care about what people think of him – but at the same time does (it's hard to narrow down the thinkings of a popular boy).  He cares about Lara Jean and seems to try to show it – but because of her innocence and because of they started off as a lie she has a hard time seeing it for what it is.  There are times when I find him to be flaky – one minute being sweet to her, the next paying way to much attention to his ex.  In the end, although I wavered at times, I was cheering for him.  I loved seeing their relationship grow and seeing Lara Jean grow in the process.
This book was a quick, easy read that is perfect for a nice, warm summer day of lounging outside.  I found it well written. although my copy did seem to have a couple typing errors in it.  Sadly, I thought this was a stand alone book – even after finishing this book and starting the review.  Now that I know that this is a series (at least a duology) I am less upset about the ending.  It was actually one of my few negatives to this book and that just got thrown out the window.  It felt too open ended and actually left me with questions.  Now that I see there`s another one to come (April 25, 2015 – P.S. I Still Love You) I can`t wait and I actually wished I had waited until closer to the release date of the second book so I don`t have to wait this painstakingly long year in between.
Jenny Han  is a well known author, but I have never read anything by her before.  After reading this book, I will gladly pick up her previous series, The Summer I Turned Pretty.
I highly recommend this book to anyone who loves a cute romance, looking for a summer read, or loves Jenny Han – although I'm only basing this on the idea that this is in similar writing to her previous books).
Rating:  4.5/5 Stars- Highly Recommend
Content: only kissing, although there is mentioning of other minors having premarital sex. Some strong language being used including the F word.  Some mentioning of under-age drinking; however, the main character does not consume any alcohol.
Source: Library Copy
This book can be purchased at Amazon, Barnes & Noble, and Chapters Indigo