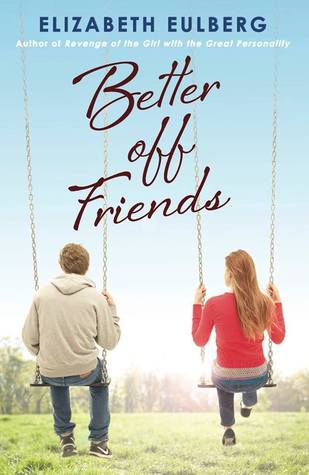 Title: Better Off Friends
Author: Elizabeth Eulberg
Publisher: Point
Release Date: February 25, 2014
Website: http://www.elizabetheulberg.com/

Book Summary:


For Macallan and Levi, it was friends at first sight. Everyone says guys and girls can't be just friends, but these two are. They hang out after school, share tons of inside jokes, their families are super close, and Levi even starts dating one of Macallan's friends. They are platonic and happy that way.


Eventually they realize they're best friends — which wouldn't be so bad if they didn't keep getting in each other's way. Guys won't ask Macallan out because they think she's with Levi, and Levi spends too much time joking around with Macallan, and maybe not enough time with his date. They can't help but wonder . . . are they more than friends or are they better off without making it even more complicated?


From romantic comedy superstar Elizabeth Eulberg comes a fresh, fun examination of a question for the ages: Can guys and girls ever really be just friends? Or are they always one fight away from not speaking again — and one kiss away from true love?
I was looking for something light, refreshing, easy, and summer.  This book fit this perfectly – although this didn't just happen in the summer.  I haven't read a "romance" novel in a while – not a true one – and especially not a best friend story so this was a nice change for me.
First off, I love the characters!  I could totally relate to Macallan and Levi was so likable that it was hard not to relate to him.  They are both strong characters that were well written and developed.  The whole story revolves around them and you feel like you're along for the ride, experiencing what they are, feeling what they were.  It was great!  I loved the bantering back and forth between the characters.  I especially liked the bantering between Macallan and Levi at the end of the chapter.  It was cute having a picture at the beginning of the chapter so you can tell who's side of the story you are following – a girl on a swing was Macallan and a boy on the swing was Levi – I found it a nice personal touch.  It was also nice that the characters had different fonts – small things but still added to the character of the book.
The one thing about this book that throw me off was how much older the characters feel.  The story starts off when Levi joins Macallan's school and they become almost insta-friends, which was in Grade 7 (that's what 11 or 12??).  It felt like they were already in high school – based on how they were interacting with each other.  This may make me seem older than I am, but I don't remember people acting the way they did in Grade 7. For instance, one of the side characters (a friend of the main characters) dates around a lot and I just remember thinking – this doesn't seem normal… do people start full out dating like they're insinuating at that age??? As the story continues the characters seem to act a little more like their age – as far as I remember the world.  Anyways, now that I've aged myself – lets continue.
I loved being a part of the growth of this relationship – I loved the ups and downs of it – it felt authentic!  Really I didn't feel that I hated any one character.  I may not have liked how a character was acting or their personality in general, but because Levi and/or Macallan grow past the other character's personality or trait or action I felt it wasn't worth dwelling on and that's just how that character was.  So there was no real true villain in this story – just a story about how Levi and Macallan grow individually and together.
I don't know what else to say about this book – I really could go on forever but I might turn into ranting and raving with no coherent train of thought.  Elizabeth Eulberg is a great author and writes amazing stories – I plan on picking up some more of her books in the future.
If you are looking for a fun read that brings you on a journey – a book that feels light and refreshing like spring/summer should be (maybe Canada will get that for more than a week!!!) then I HIGHLY suggest this book!
Rating:  5 Stars – I loved it!!!
Content: Some offensive language used to tease or insult like bitch, Retard, retarded, dumb, idiot, jerk, pathetic, useless.  As far as violence, a punch is thrown but nothing more serious.  Some light sexual tension and kissing.
Source: Library Copy