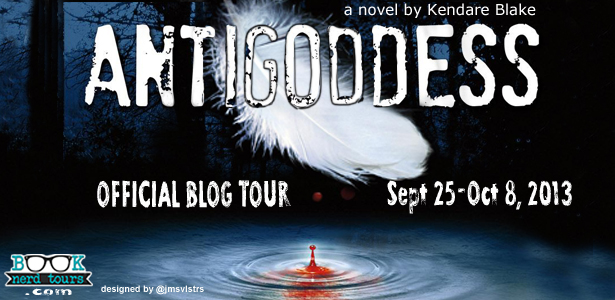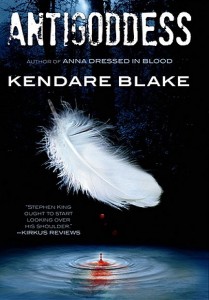 Antigoddess by Kendare Blake
The Goddess War begins in Antigoddess, the first installment of the new series by acclaimed author of Anna Dressed in Blood, Kendare Blake.
Old Gods never die…
Or so Athena thought. But then the feathers started sprouting beneath her skin, invading her lungs like a strange cancer, and Hermes showed up with a fever eating away his flesh. So much for living a quiet eternity in perpetual health.
Desperately seeking the cause of their slow, miserable deaths, Athena and Hermes travel the world, gathering allies and discovering enemies both new and old. Their search leads them to Cassandra—an ordinary girl who was once an extraordinary prophetess, protected and loved by a god.
These days, Cassandra doesn't involve herself in the business of gods—in fact, she doesn't even know they exist. But she could be the key in a war that is only just beginning.
Because Hera, the queen of the gods, has aligned herself with other of the ancient Olympians, who are killing off rivals in an attempt to prolong their own lives. But these anti-gods have become corrupted in their desperation to survive, horrific caricatures of their former glory. Athena will need every advantage she can get, because immortals don't just flicker out.
Every one of them dies in their own way. Some choke on feathers. Others become monsters. All of them rage against their last breath.
The Goddess War is about to begin.
You can purchase Antigoddess at the following Retailers:
 Author Kendare Blake
Kendare Blake is an import from South Korea who was raised in the United States by caucasian parents. You know, that old chestnut. She received a Bachelor's degree in Business from Ithaca College and a Master's degree in Writing from Middlesex University in London. She brakes for animals, the largest of which was a deer, which sadly didn't make it, and the smallest of which was a mouse, which did, but it took forever. Amongst her likes are Greek Mythology, rare red meat and veganism. She also enjoys girls who can think with the boys like Ayn Rand, and boys who scare the morality into people, like Bret Easton Ellis.
Website * Goodreads * Twitter * Facebook
Interview
In your wildest dreams, which author would you love to co-author a book with?
George RR Martin. So I would know what happens in Westeros before anyone else. But I wouldn't actually do any of the writing. So I would just sit there and annoy him, or bring him snacks, or run his errands.
Favorite quote from a movie?
Funny you should ask, because I'm running through movie quotes now, signing ANTIGODDESS. It doesn't have it's own catchphrase, you see, so I'm stealing from random movies, or people's favorites, if they know. Right now my favorite is, "there can be only one. Highlander." But I've never seen Highlander.
If you could leave this world for your "book world," would you?
Sure, if I could choose my powers. Otherwise I'd probably die.
If you could invite any 5 people to dinner who would you choose?
Hannibal Lecter to do the cooking. Not of people, but damn, that mother effer can cook, you know, other things. Dave Grohl, from the Foo Fighters, because he'd just be fun, I think. Hunter S. Thompson. For the interesting conversation. Peter Casey, to keep our things safe. The Smurfs, because I hate them, and we would eat them, and Hannibal would cook them.
What is next on your to read list?
I've got, Fire and Flood, by Victoria Scott and The Nightmare Dilemma, by Mindee Arnett! Very excited for both!
How do you feel about banned books? Do you have a favorite?
Banning books is stupid, and I love them all  on principle.
About how long does it take to write a book? 
Six to eight months, on average. But I always leave it up to the book. Well, as long as I'm not on deadline.
Do you prefer to write in silence or with music?
Neither. I write to Food Network. I tried music, and caught myself writing to Bryan Adams. Not allowed, man. Not allowed.
If you could have any superpower what would you choose?
If you let me choose, I choose all of them. But my friend says, Teleportation, because we don't like to drive or make left hand turns. My brother says invisibility, I guess because he's a locker room pervert.
If a movie was made about your life, who would you want to play the lead role and why?
Jackie Chan, because the stunts would be fantastic. And we could put him in a wig.
3 Winners will receive a Signed Copy of Antigoddess by Kendare Blake.
5 Winners will receive a Surprise ART Bookmark by James Vallesteros.