Title: PARADOX
Author: A.J. Paquette
Pub. Date: June 25, 2013
Publisher: Random House Books for Young Readers
Pages: 240
Find it: Amazon, Barnes & Noble, Goodreads
Fans of James Dashner's Maze Runner series will love this postapocalyptic adventure about a girl who must survive an alien planet in order to save the Earth.

Ana only knows her name because of the tag she finds pinned to her jumpsuit. Waking in the featureless compartment of a rocket ship, she opens the hatch to discover that she has landed on a barren alien world. Instructions in her pocket tell her to observe and to survive, no doubt with help from the wicked-looking knives she carries on her belt. But to what purpose?

Meeting up with three other teens–one boy seems strangely familiar–Ana treks across the inhospitable landscape, occasionally encountering odd twists of light that carry glimpses of people back on Earth. They're working on some sort of problem, and the situation is critical. What is the connection between Ana's mission on this planet and the crisis back on Earth, and how is she supposed to figure out the answer when she can't remember anything?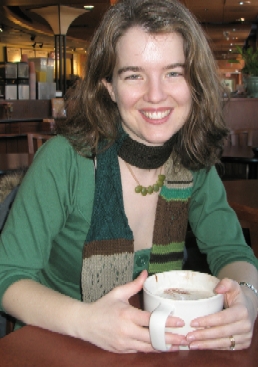 About the author: A.J. Paquette has been writing stories since early childhood. She and her sister would spend hours creating masterpieces of stapled paper and handwritten words, complete with pen-and-ink covers and boxed illustrations.
The road to publication was long and winding, peppered with many small successes including: a variety of national magazine publications, being a 2005 PEN New England Susan P. Bloom Discovery Award honoree, and receiving the 2008 SCBWI's Susan Landers Glass Scholarship Award, for the book that would later become Nowhere Girl. Her first picture book, The Tiptoe Guide to Tracking Fairies, was published in 2009.
She now lives with her husband and two daughters in the Boston area, where she continues to write books for children and young adults. She is also an agent with the Erin Murphy Literary Agency.
Guest Post
Five Books I Am Dying to Read
Vessel, by Sarah Beth Durst
The Girl who Circumnavigated Fairyland in a Ship of Her Own Making, by Catherynne Valente
The Lies of Locke Lamora, by Scott Lynch
Dr. Bird's Advice for Sad Poets, by Evan Roskos
Ashes on the Waves, by Mary Lindsey (Yes! Mary is my client—but we sold this book on proposal, so I am impatiently awaiting the final version so I can read it!)
Five Masterful Books Every Author Should Read and Study for Structure and More
The Expats, by Chris Pavone: Excellent use of multiple flashbacks and a really engrossing story; but the best thing about this book are the plots-within-plots, the way just when you think you know what's going on, the character motivation turns on its head. That's writing!
Holes, by Louis Sachar: Perfect, meticulous plotting. A masterpiece no writer should miss reading.
Dragon's Keep, by Janet Lee Carey: Rich prose and magnificent world building, with a story pulse that crescendos expertly toward its climactic ending.
The List, by Siobhan Vivian: Multiple POVs perfectly interwoven, excellent character development, themes that feel organic to the characters, and a satisfying-yet-not-saccharine ending.
The Curse of Challion, by Lois McMaster Bujold: It may take you a few pages to get fully hooked, but you will be rewarded with tremendous layered characters, a deeply fleshed out world, and a plot that folds back on itself in wonderful ways.
Five Words That Make Me Think of the World of PARADOX
Dangerous
Unpredictable
Exhausting
Untamed
Layered
Five Things I Would Like to Be Eating Right Now
Strawberry shortcake with real whipped cream
Blackberry tart with oat-nut crust
Homemade loaf of crusty bread with real butter
Fresh pasta with pesto
A sizzling thin-crust pizza right out of an old fashioned brick oven