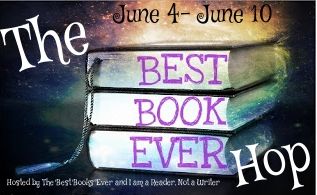 The Best Book Ever Giveaway Hop
June 4th to 10th
Amanda from The Best Books Ever is hosting this hop.  I'm co-hosting.
Before signing up please review the hop rules here:
http://www.iamareader.com/giveaway-hop-rules
The Best Books Ever Hop Rules:
You must include a giveaway on your hop stop and are responsible for supplying and shipping that prize.
Since this is The Best Book Ever Hop- your giveaway must feature a book that would fit one of the best book's ever categories: http://www.thebestbooksever.com/p/best-book-ever.html)
You may have a maximum of 10 entries and you MUST include at least one FREE entry (all the person has to do is click enter).
Your giveaway post must include the hop image & linky (or links to the host's sites if you can't get the linky to work). Your post should also include a link to The Best Book Ever Categories (http://www.thebestbooksever.com/p/best-book-ever.html)
Your post must be live by 9:01 AM EST on June 4th. Up to 24 hours early is fine. 
The giveaway must be specifically for this hop.
Your site & giveaway must be family friendly – no erotica or 18+ sites.
To host a giveaway add your blog to the linky with your shipping info in parenthesis following your blog name.  If you have any questions or need anything changed please email Amanda – oneminutebooks at gmaildotcom.
Example: I Am A Reader, Not A Writer (Int)