Top Ten Book Boyfriends of of 2012 .

Just take the male half of the couples from yesterday's post on the Top Ten Couples and you will have my list…
http://www.iamareader.com/2012/12/top-ten-couples-of-2012.html


So instead I'm going to report on how I did on my list from last year.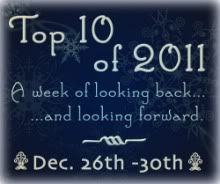 Today's Top 10 is "Top 10 Books I'm Looking Forward to in 2012"!
I'm not going to even try to narrow it down to just 10!


Instead I'll do some categories of book I'm looking forward to and try to keep them below 10!


2012 Sequels  I'm looking forward to:
First off I just read the 2012 release Pandemonium so here is hoping I get an ARC of Requim in 2012!
No ARC of Requim for me but I'm still looking forward to reading it when it is released.
The yet titled book that is next in the Daughter of Smoke & Bone #2 by Laini Taylor
By the time this post goes live I hope I will have finished it.  Currently half way through.
Hex Hall #3 – Spell Bound by Rachel Hawkins
Not gotten to it yet.
The yet to be title Matched #3 by Ally Condie
I have Reached downloaded but haven't read it yet.
Wings #4 – Destined by Aprilynne Pike
It's on my bookshelf but I've not yet read it.
The Dark Divine #3 – The Savage Grace by Bree Despain
Read it!
I'm in the middle of Divergent and loving it! So I'm sure Insurgent by Veronica Roth needs to be on this list.
Read it and looking forward to book #3.
Graceling #3 – Bitterblue by Kristen Cashore
Have it downloaded too but not yet read it.
Jessica's Guide to Dating on the Dark Side #2 – Jessica Rules the Darkside by Beth Fantaskey
Sitting on my bookshelf waiting to be read.
Series I need to start ASAP:
Unearthly by Cynthia Hand
I read book 1 and have book 2.
Haven by Kristi Cook
Forgot about this one.  Still need to read.
Nightshade by Andrea Cremer
Read it.
Across the Universe by Beth Revis
Read the 1st two books now waiting on book 3.
Firelight by Sophie Jordan
Read the 1st 2 books and have book 3 waiting.
The Goddess Test by Aimee Carter
Still need to read.
Inside Out by Maria Snyder
Read it.
Storm Glass by Maria Snyder
Have them but haven't read them yet.
Series I have started and plan to keep reading in 2012: (I didn't get to any of these)
The Caster Chronicle Series by Kami Garcia & Margaret Stoll
Not yet
Hush, Hush by Becca Fitzpatrick
Net yet
Fallen by Lauren Kate
Not yet
Paranormalcy by Kiersten White
Not yet
2011 Releases I plan to read in 2012:
Touch of Power by Maria Snyder
Read and LOVED it!  Have book 2.
Entwinded by Heather Dixon
Not yet.
Shatter Me by Tahereh Mafi
Read it.
The Unbecoming of Mara Dyer by Michelle Hodkin
Not yet.
Anna Dressed in Blood by Kendare Blake
Not yet.
Lola and the Boy Next Door by Stephanie Perkins
Read it.
A Beautiful Dark by Jocelyn Davies
Not yet.
Where She Went by Gayle Forman
Read it.
Hourglass by Myra McEntire
Not yet.
The Girl of Fire and Thorn by Rae Carson
Not yet.
Between the Sea and the Sky by Jaclyn Dolamore
Not yet.
Blood Red Road by Moira Young
Not yet.
2012 Debuts that have Caught my Eye:
Everneath by Brodi Ashton
Read it.
Under the Never Sky by Veronica Rossi
Read it.
The Selection by Kiera Cass
Not yet.
Fractured Light by Rachel McClellan
Not yet.
Cinder by Marissa Meyer
Read it.
Incarnate by Jodi Meadows
Not yet.
And finally I know Marcia Lynn McClure is planning to release at least 2 new books – Untethered & Midnight Masquerade – Both of which I can not wait to read!
Read Untethered plus 2 others she released.  Still waiting on the release of Midnight Masquerade.