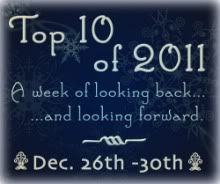 Confessions of a Bookaholic, A Life Bound by Books, Fiktshun & Two Chicks on Books have put together a year end Top 10 of 2011 event.
Today's Top 10 is "Top 10 Book Boyfriends of 2011"!
Here are 10 of my favorite "couples'" from 2011.  Not much difference from yesterdays list.
Trevon & Cristabel
Gentry & Autumn
Justice & Baylee
Maxim & Sharlamagne
Lena & Alex
Ash & Meghan
Cole & Isabel (Sam & Grace too)
Karou & Akiva
Sophie & Archer
Ethan & Lena