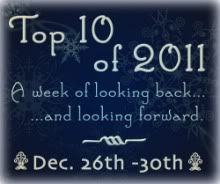 Confessions of a Bookaholic, A Life Bound by Books, Fiktshun & Two Chicks on Books have put together a year end Top 10 of 2011 event.
Today's Top 10 is "Top 10 Books Covers of 2011"!
Hmmm… Apparently my taste in book covers is quite limited…. these are all fairly similar.