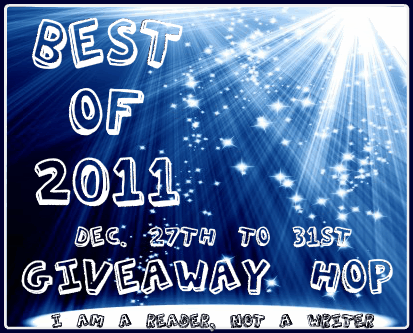 I've been debating how best to set up my giveaways because I have more than one.  I've already got 12 great Best of 2011 giveaways running that were part of the BIR2011 event.  Be sure you have entered all of these great giveaways!
Throughout today I will be posting several new giveaways specifically for the Best of 2011 Giveaway Hop. Depending on how my day goes I may have 3 or 4 or if things go well even more giveaways posted. I'm going to post them as individual posts but then link them all up in one post when I'm done.  Sorry if this is confusing to anyone but I'm not sure how else to get everything posted.
Best of 2011 Giveaway Hop Rules
Your giveaway should be for at least one of your favorite reads of 2011.  It can be a book that was released in 2011 or a book your read in 2011.  Alternately you may include a list of your favorite 2011 reads for the winner to choose from.  You may provide a gift card for them to purchase the book.
You must include the hop image and linky in your post.
No restrictions on the number of entries but please try to keep it simple. Long lists of things to do discourages people from entering.  Only 1 mandatory entry.  The others must be optional.
Only family friendly sites & books (no erotica, etc.)
It's not too late to join.  Just put up a post that meets these requirements and add your blog to the linky.