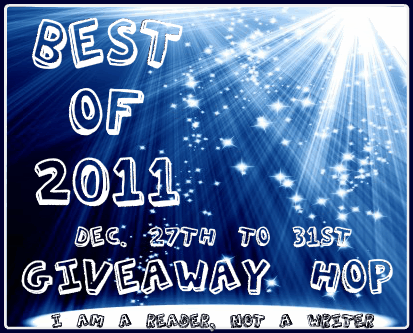 Welcome to The Best of 2011 Giveaway Hop.  This hop runs from December 27th to 31st and features the Best Books of 2011!
100 Blogs are each hosting a giveaway for their favorite reads of 2011.
Currently I have 12 great Best of 2011 giveaways running that were part of the BIR2011 event.  Be sure you have entered all of these great giveaways!
DAUGHTER OF SMOKE AND BONE by Laini TaylorFOREVER by Maggie StiefvaterSHATTERED SOULS by Mary LindseyTEMPESTOUS by Lesley LivingstonBETWEEN SHADES OF GRAY by Ruta SepetysPRIDE & POPULARITY by Jenni JamesTHE NIGHT CIRCUS by Erin Morgenstern WITCH SONG by Amber ArgyleMINOR ADJUSTMENTS by Rachael Renee AndersonTHE BREAKUP ARTIST by Shannen Crane CampCROSSED by Ally CondieTROVE OF THE PASSION ROOM, THE HAUNTING OF AUTUMN LAKE & THE CHIMNEY SWEEP CHARM by Marcia Lynn McClure
As part of this BEST of 2011 GIVEAWAY HOP I have 6 separate GIVEAWAY.  There will be 6 winners.
You must visit the individual post to be entered for that giveaway: 
#1 – Crossed by Ally Condie + Poster & Buttons


#2 – The Night Circus by Erin Morgenstern


#3 – Open Internationally – Your choice of ANY of Marcia Lynn McClure's currently available Titles – 36 Books to Choose From!


#4 – Open Internationally – Reader's Choice Giveaway – Divergent by Veronica Roth – The Book Depository must ship to your country.


#5 – Daughter of Smoke & Bone by Laini Taylor


#6 – Open Internationally – Book of Your Choice – Choose any title from the books I read this year & all the books that were featured on BIR2011.  Up to $15 – The Book Depository must ship to your country.
I also have lots of other great giveaways going on.  So be sure to enter all of them!
It's not too late to join us in the Hop!  Just read the rules below and put up a post.
Best of 2011 Giveaway Hop Rules
Your giveaway should be for at least one of your favorite reads of 2011.  It can be a book that was released in 2011 or a book your read in 2011.  Alternately you may include a list of your favorite 2011 reads for the winner to choose from.  You may provide a gift card for them to purchase the book.
You must include the hop image and linky in your post.
Your giveaway must be specifically for this hop and run from Dec. 27th to 31st.
No restrictions on the number of entries but please try to keep it simple. Long lists of things to do discourages people from entering.  Only 1 mandatory entry.  The others must be optional.
Only family friendly sites & books (no erotica, etc.)
It's not too late to join.  Just put up a post that meets these requirements and add your blog to the linky.
Sign Up to Join Me In An Upcoming Hop!
Click the Hop Image to Sign Up