Today's question comes from Wall-to-Wall Books.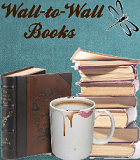 Oh I am so glad you are doing this!
This is a question I have been wanting to ask someone!
How do you do these forms that we fill out?
Where do we get them? How do we put them on our blogs? and when someone fills it out, where does the information go?

I really want to try one sometime!
That is a great question.  Forms are actually really easy to use and make giveaways so simple.  However, I was so frustrated the first few times I tried to use a form.  I spent what seemed like forever trying to figure out how to change the height and width of the form.  Over an hour later when I finally asked someone I couldn't believe it was so easy and that I'd struggled so long to figure it out.
In my recent reader survey I asked "Do you have a preference on how to enter giveaways"
Here are the results:
*Nearly everyone who answered "Other" said that they prefer Rafflecopter. If I had Rafflecopter as an option it would likely have received more votes.
Obviously the majority of people prefer to enter a giveaway using a Form or Rafflecopter.
I'm going to totally "cheat" on this one and refer you to Family Friendly Frugality's post on How to Use Google Docs for Giveaways: http://www.familyfriendlyfrugality.com/2011/03/bloggers-how-to-use-google-docs-forms-for-giveaways/  She has graphics and very easy to understand instructions.
When you are done there visit Love Lives Here and read Step 5 of her tutorial which explains how to change the height and width of the form to fit your blog: http://www.theloveliveshere.com/2011/02/how-to-create-google-docs-entry-form.html  On my blog I currently use a width of 620 and a height of 400 to 600.  With my old layout I used a width of 520.
Do you have a question for me?  Send me an email toobusyreading(at)gmail(dot)com or fill out the form below.