I have fallen so far behind on my blogging & reading goals for 2011. At this point I'm ok with the fact that I will never reach many of the goals I set. I've always said and believe that family comes first.  Having an ill child has meant much of my time has been devoted to him which is how it should be.  I've been reading non-stop but much of it is in the area of diet, nutrition and alternative medicine so reviews on this site have been few and far between.  There seems to be a light at the end of the tunnel so hopefully soon things will return to normal and I'll have more time to blog.
I am thrilled that at least one of my 2011 goals will be met. I've wanted to redesign my blog and thanks to Lori from Pure Imagination I will at least meet that goal.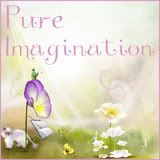 I noticed that many of the new blog designs that I like have been made by Lori.  She is currently working on my new blog design.
Be sure to check out her blog design site: Use Your Imagination Designs.

I gave Lori a few guidelines on what I like and she's come up with an original design for my site. I'm excited to see the finished product. For now here is a sneak peak of what will likely be my new blog button.