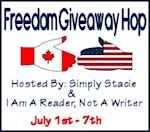 The Freedom Giveaway Hop is just a week away! There are nearly 200 sites each signed up to host a giveaway.  If you are interested in hosting a giveaway you have until Monday to sign up.
If you are looking for something else to do during the holiday weekend stop by Back of the Book Reviews. They are hosting a read-a-thon in conjunction with the holiday weekend.
In celebration of the 4th of July Back of the Book Reviews is holding a 96 hour read-a-thon. The event will start on the 1st July (Friday) and go through till the 4th July (Monday).