Weekly Update
Current giveaways:
Sealing the Deal ends 2/25
Tiger's Curse ends 2/25
Indigo Blues ends 2/27
Impractical Grace ends 2/27
Between Shades of Gray ends 2/28
Jenna & Jonah's Fauxmance ends 2/28
Illegal ends 3/1 NEW THIS WEEK
The Tapeworm Emails and the Gloria Airmails ends 3/1
The False Princess ends 3/1
2500 Follower – $10 Amazon Gift Card ends 3/1
Shifters 2040 ends 3/2
The Portable Pediatrician ends 3/3
The Road Show ends 3/5
The Latte Rebellion ends 3/6
Lessons From Stanley the Cat ends 3/6
Where I Belong ends 3/7
21 Day Weight Loss Kickstart end 3/7
The Darlings Are Forever ends 3/8
The Upside of Down ends 3/8
Crusade ends 3/8
No Cure for the Broken Hearted ends 3/9
Spirit Storm Prize Pack ends 3/9
Fallen Grace ends 3/16
Head Games ends 3/18
Mad Love ends 3/18 NEW THIS WEEK
Waterfall ends 3/20
A New Birth of Freedom ends 3/20 NEW THIS WEEK
Foresight ends 3/21 NEW THIS WEEK
Elijah's Coin ends 3/22 NEW THIS WEEK
The Demon Trapper's Daughter ends 3/23 NEW THIS WEEK
Must've Done Something Good ends 3/23 NEW THIS WEEK
An ABC Escapade Through Egypt ends 3/23 NEW THIS WEEK
The Trouble With Half A Moon ends 3/23 NEW THIS WEEK
Unlocking the Power of the Spirit ends 3/24 NEW THIS WEEK
Ballad of the Rag Man or 5 other books to choose from ends 3/25 NEW THIS WEEK
Visit my Got Great Giveaways Linky to find dozens of book giveaways. If you have a giveaway on your site that isn't listed please add it to the linky. Book related giveaways only please!
New Reviews Posted This Week:
Shadow of the Sun
Unlocking the Power of the Spirit
Hidden Truth
The Touch of the Master's Hand
Recovery Road
The Sweetest Thing
A New Birth of Freedom
Mad Love
Coming Soon:
March 14th – 17th
Lucky Leprechaun Giveaway Hop – Sign Ups are Open

April 1 & 2
Fool For Books Giveaway Hop – Sign Ups are Open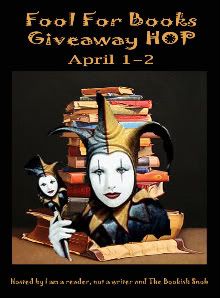 April 20-25th
Hoppy Easter Eggstravagazna Hop – Sign Ups are Open