Weekly Update
Current giveaways:
Into the Shadow ends 2/18
Son of Eden ends 2/21
The Life and Opinions of Amy Finawitz ends 2/22
The Long Weekend ends 2/23 New This Week
Other Words for Love ends 2/24
Sealing the Deal ends 2/25
Tiger's Curse ends 2/25
Indigo Blues ends 2/27
Impractical Grace ends 2/27
Between Shades of Gray ends 2/28
Jenna & Jonah's Fauxmance ends 2/28
The Tapeworm Emails and the Gloria Airmails ends 3/1
The False Princess ends 3/1
2500 Follower – $10 Amazon Gift Card ends 3/1
Shifters 2040 ends 3/2
The Portable Pediatrician ends 3/3
The Road Show ends 3/5
The Latte Rebellion ends 3/6
Lessons From Stanley the Cat ends 3/6 New This Week
Where I Belong ends 3/7
21 Day Weight Loss Kickstart end 3/7 New This Week
The Darlings Are Forever ends 3/8
The Upside of Down ends 3/8
Crusade ends 3/8
No Cure for the Broken Hearted ends 3/9 New This Week
Spirit Storm Prize Pack ends 3/9 New This Week
Fallen Grace ends 3/16 New This Week
Head Games ends 3/18 New This Week
Waterfall ends 3/20 New This Week
Visit my Got Great Giveaways Linky to find dozens of book giveaways. If you have a giveaway on your site that isn't listed please add it to the linky. Book related giveaways only please!
New Reviews Posted This Week:
The Long Weekend
Fallen Grace
First Truth
Coming Soon:
March 14th – 17th
Lucky Leprechaun Giveaway Hop – Sign Ups are Open

April 1 & 2
Fool For Books Giveaway Hop – Sign Ups are Open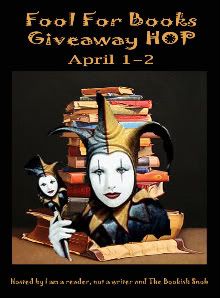 April 20-25th
Hoppy Easter Eggstravagazna Hop – Sign Ups are Open

Book Blogger Hop & Follow
If you are a fan of Science Fiction what is your favorite book?
I don't read tons of science fiction but I'm going to have to go with Ender's Game by Orson Scott Card.  I've read all the books and enjoyed them.
If you are still here remember, I always follow back so if you are a new follower be sure to leave me a comment on this post with a link to your site so I can stop by your blog and follow you.
Hope you are having a fabulous Friday!