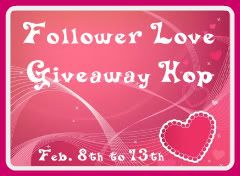 Welcome to the Follower Love Giveaway Hop!
The follower love giveaway hop is hosted here at I Am A Reader, Not A Writer. Over 200 blogs have signed up to host a book related giveaway and we are all linked up together so you can easily hop from one giveaway to another.  The hop runs from Tuesday, February 8th through Sunday, February 13th.
While you are here sign your blog or website to take part in the upcoming Giveaway Hops:
Lucky Leprechaun Giveaway Hop
Fool for Books Giveaway Hop
Hoppy Easter Eggstravaganza Giveaway Hop.
I currently have lots of great book giveaways going on.  They can be found listed down the right column of my blog.
As part of my Follower Love Giveaway Hop I am participating in the
We <3 Nook Giveaway 
Nook Giveaway Rules:
This is a multiple blog giveaway. Each blog is giving away a prize pack that will include an entry into the Grand Prize Nook giveaway. You can enter every blog's giveaway, but each blog will have their own giveaway rules, so please be sure to follow them. Each blog will pick a winner – the winner will win the blog prize and an entry into the Nook Giveaway,which means it's a 1 in 14 chance to win the Nook. If you enter every contest, you have the possibility of your name being added multiple times in the Nook giveaway.
Also included in the We <3 Nook Giveaway Prize Pack are 3 ebooks:
MY SOUL TO STEAL by Rachel Vincent
THE ORACLE OF DATING by Allison van Diepen
PAST MIDNIGHT my Mara Purnhagen
A $40 B&N Gift Card
A finished copy of Delirium by Lauren Oliver
If the winner of my Follower Love Giveaway #1 lives in the US they will get the entry into the Nook Giveaway. If the winner of giveaway #1 lives out of the US then the winner of Giveaway #2 will be entered into the Nook Giveaway.   The winner from my blog has a 1 in 14 chance of winning the Nook Prize Package.
Follower Love Giveaways:
Giveaway #1
$12 gift certificate to buy books. (Amazon.com, Barnes & Noble.com or any other online retailer of your choice that sells books and has a way for me to send you a $12 online gift certificate).
Or if you live Internationally and can't use a US gift certificate or would prefer to choose a book then you can choose a book of your choice from the Book Depository up to $12 US.
Giveaway #2
A book from one of my favorite authors, Marcia Lynn McClure.
Open to US only.
An Old-Fashioned Romance
by Marcia Lynn McClure:
Life went along simply, if not rather monotonously, for Breck McCall.
Her job was satisfying, she had true friends, but she felt empty . . . as if part of her soul was detached and lost to her. She longed for something . . . something which seemed to be missing.
Yet, there were moments when Breck felt she might almost touch something wonderful. And most of those moments came while in the presence of her handsome, yet seemingly haunted boss . . . Reese Thatcher.
Giveaway Details:
To enter giveaway please follow this blog then fill out the form below.
Last Day to Enter is 2/13/11
Optional Extra Entries:
+1 Be or become my friend on Goodreads
+1 Follow on Twitter
+1 Like on Facebook
+1 Follow on Networked Blogs
+1 Have a confirmed email subscription
To Enter Giveaway Please Fill Out This Form:
After you have entered my giveaway hop to another giveaway on the list: