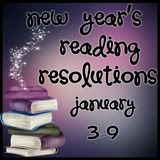 Welcome to the New Year's Reading Resolutions Hop hosted by Reading Angel, Pure Imagination and Candace's Book Blog!
Each participating blog is offering a book related giveaway and we are all linked up together so you can easily hop from one giveaway to another.  The hop runs from January 3rd through January 9th.
I have 2 great giveaways for you today. There will be 2 winners.
While your here sign up to take part in the Dreaming of Books Giveaway Hop, Follower Love Giveaway Hop or Lucky Leprechaun Giveaway Hop.
Also take a minute to enter all my other great book giveaways which are listed in my right sidebar.
Giveaway #1
$12 gift certificate to buy books. (Amazon.com, Barnes & Noble.com or any other online retailer of your choice that sells books and has a way for me to send you a $12 online gift certificate).
Or if you live Internationally and can't use a US gift certificate or would prefer to choose a book then you can choose a book of your choice from the Book Depository up to $12 US.
Giveaway #2
A book from one of my favorite authors, Marcia Lynn McClure.
Open to US only.
The Touch of Sage:
Following the death of her parents, Sage Willows had lovingly nurtured her younger sisters through childhood. She loved her sisters. She'd seen each one married, and was glad to see them settled and happy. Furthermore, she held no resentment at never having found a good man of her own to settle down with. Yet, regret is different than resentment—and far more haunting.
Still, Sage found as much joy as was allowed a lonely young woman—in being proprietress of Willows' Boardinghouse, and in the companionship of the four beloved widow-women boarding there. Until, that is, the devilishly handsome Rebel Lee Mitchell appeared. It seemed Reb Mitchel instantly and forever vanquished Sage's feigned contentment.
Dark, mysterious and secretly wounded, Reb Mitchell utterly captured Sage's lonely heart. Nevertheless, to Sage Williows, the powerfully attractive cowboy—admired and coveted by every female in his path—seemed entirely unobtainable. How could a weathered, boardinghouse-proprietress resigned to spinsterhood, ever hope to hold the attention of such a man? And knowing she couldn't—would Sage Willows simply sink deeper into the bleak loneliness she'd secreted for so long?
Giveaway Details:
To enter giveaway please follow this blog then fill out the form below.
Last Day to Enter is 1/9/11
Optional Extra Entries:
+1 Be or become my friend on Goodreads
+1 Follow on Twitter
+1 Have a confirmed email subscription
Enter your email address:
Delivered by FeedBurner
To Enter Giveaway Please Fill Out This Form:
Once you've entered my giveaway jump to the next giveaway on the list: