Welcome to the Dreaming of Books Giveaway Hop!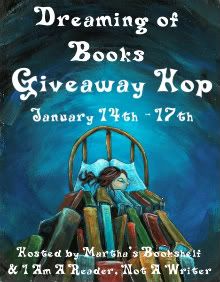 This hop was organized by myself and Martha from Reviews by Martha's Bookshelf.
Over 160 participating blogs are offering a book related giveaway and we are all linked up together so you can easily hop from one giveaway to another.  The hop runs from Friday, January 14th through Monday, January 17th.
I have 2 great giveaways for you today. There will be 2 winners.
While you are here sign your blog up to take part in the Follower Love Giveaway Hop or Lucky Leprechaun Giveaway Hop.
I currently have 48 great book giveaways going on plus a $50 CSN stores giveaway.  If you don't have time today be sure to bookmark my site and come back to enter all these great giveaway listed in my right sidebar.
Come back Tuesday the 18th to enter my huge Blogtastic Extravaganza Giveaway with 4 fantastic prize packages.
Giveaway #1
$10 gift certificate to buy books. (Amazon.com, Barnes & Noble.com or any other online retailer of your choice that sells books and has a way for me to send you a $10 online gift certificate).
Or if you live Internationally and can't use a US gift certificate or would prefer to choose a book then you can choose a book of your choice from the Book Depository up to $10 US.
Giveaway #2
A book from one of my favorite authors, Marcia Lynn McClure.
Open to US only.
The Time of Aspen Falls by Marcia Lynn McClure
Aspen Falls was happy. Her life was good. Blessed with a wonderful family and a loyal best friend—Aspen did know a measure of contentment.
Still, to Aspen it seemed something was missing—something hovering just beyond her reach—something entirely satisfying that would ensure her happiness. Yet, she couldn't consciously determine what the "something" was. And so, Aspen sailed through life—not quite perfectly content perhaps—but grateful for her measure of contentment.
Grateful that is, until he appeared—the man in the park—the stranger who jogged passed the bench where Aspen sat during her lunch break each day. As handsome as a dream, and twice as alluring, the man epitomized the absolute stereotypical "real man"—and Aspen's measure of contentment vanished!
Would Aspen Falls reclaim the comfortable contentment she once knew? Or would the handsome real-man-stranger linger in her mind like a sweet, tricky venom—poisoning all hope of Aspen's ever finding true happiness with any other man?
Giveaway Details:
To enter giveaway please follow this blog then fill out the form below.
Last Day to Enter is 1/17/11
Optional Extra Entries:
+1 Be or become my friend on Goodreads
+1 Follow on Twitter
+1 Have a confirmed email subscription
To Enter Giveaway Please Fill Out This Form:
After you have entered my giveaway hop to another giveaway on the list: