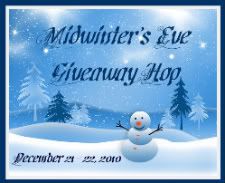 Welcome to the Midwinter's Eve Giveaway Hop!
The Midwinter's Eve Giveaway Hop is a 2 day hop that is hosted here at I Am A Reader, Not A Writer. More than 100 blogs are each offering a book related giveaway and we are all linked up together so you can easily hop from one giveaway to another.  The hop runs from 12:01 AM Tuesday, December 21st to 11:59 PM on Wednesday, December 22nd.
I have 2 great giveaways for you today. There will be 2 winners.
Giveaway #1
$10 gift certificate to buy books. (Amazon.com, Barnes & Noble.com or any other online retailer of your choice that sells books and has a way for me to send you a $10 online gift certificate).
Or if you live Internationally and can't use a US gift certificate then you can choose a book of your choice from the Book Depository up to $10 US.
Giveaway #2
A book from one of my favorite authors, Marcia Lynn McClure.
Open to US only.
Shackles of Honor by Marcia Lynn McClure:
Cassidy Shea's life was nothing if not serene. Loving parents and a doting brother provided happiness and innocent hope in dreaming as life's experience. Yes, life was blissful at her beloved home of Terrill.
Still, for all its beauty and tranquility…ever there was something intangible and evasive lurking in the shadows. And though Cassidy wasted little worry on it…still she sensed its existence, looming as a menacing fate bent on ruin.
And when one day a dark stranger appeared, Cassidy could no longer ignore the ominous whispers of the secrets surrounding her. Mason Carlisle, an angry, unpredictable man materialized…and seemingly with Cassidy's black fate at his heels.
Instantly Cassidy found herself thrust into a world completely unknown to her, wandering in a labyrinth of mystery and concealments. Serenity was vanquished…and with it, her dreams.
Or were all the secrets so guardedly kept from Cassidy…were they indeed the cloth, the very flax from which her dreams were spun? From which eternal bliss would be woven?
Giveaway Details:
To enter giveaway please follow this blog then fill out the form below.
Last Day to Enter is 12/22/10.
Optional Extra Entries:
+1 Be or become my friend on Goodreads
+1 Follow on Twitter
+1 Have a confirmed email subscription
This giveaway is now closed. Thank you to all who entered.