What is a giveaway hop?
Simple – Each participating blog hosts a giveaway and then we link up together allowing our followers to hop easily from one giveaway to another.
For followers & blog readers this means lots of chances to win free books.
For host blogs it means lots of new visitors and followers.
It's a win-win.
If you host a giveaway on your blog you can also enter all the giveaways on the other blogs.
The Midwinter's Eve Giveaway Hop will be a quick 2 day hop.  Midwinter's Eve is the longest night of the year so why not spend it entering some great giveaways.
The hop will run from 12:01 AM on December 21st to 11:59 PM on December 22nd. 
Each blog will host their own giveaway that will run for just 2 days. There is no requirement on the minimum or maximum value of your giveaway. It's up to you to decide. You can giveaway books, swags, amazon gift cards, or anything else you can think of that has to do with books. Your giveaway can be as simple or as elaborate as you want.
You do not have to be a dedicated book blog to participate but your giveaway must have something to do with books.
All participating blogs will be linked up through a Midwinter's Eve linky.
The process to enter your giveaway must be kept as simple as possible.
Please no long lists of dozens of different things followers can do to gain extra entries.  Limit your giveaway to just one mandatory entry and a couple of optional extra entries so people can quickly move to the next giveaway.
Giveaways can be US, US & Canada or International.
 I will email participants with more information a week or two before the hop starts.
Questions can be emailed to me at toobusyreading at gmail dot com.
 The last day to sign up is December 16th. 
 If you want to participate by hosting a giveaway on your blog please:
Enter your information in the Gratitude Giveaways Form
I will add you to the linky list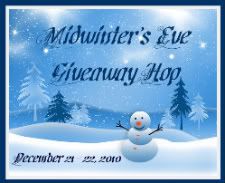 If this hop won't work with your schedule consider signing up for one of the 2011 Hops.
2011 Tentative Hop Schedule:
Dreaming of Books Hop 14th to 17th Co-hosted by Martha from Reviews by Martha's Bookshelf
Follower Love – February 8th to 13th
St. Patricks Day Hop March 17th to 20th – Co-hosted by Cindy from Books Complete Me
April Fools Hop April 1-2 Co-Hosted by Belinda from The Bookish Snob
Easter Hop April 20th to 25th – Co-hosted by Cindy from Once Upon a Twilight
May Hop – Schools Out May 23rd to 25th
Mid Summer's Eve June 21st-22nd
Celebrating Freedom Hop July 1st to 4th
Summer Hop August 5th to 7th
Back to School Hop Sept 1 – 5th
Banned Book Week Hop Sept 24th – Oct 1st
Spooktacular Hop Oct 24th to 31st
Gratitude Giveaways November 17th to 27th
Midwinters Eve December 21st to 22nd.