Thanks for stopping by!

"What are your feelings on losing followers? Have you ever stopped following a blog?"
I don't have a clue if I've lost a follower. I'm sure I have but I don't pay close enough attention. I did stop following one blog because it was way too steamy for me.


"Who are your favorite authors?"
Way too many to list but I'll name a few… Marcia Lynn McClure, Stephenie Meyer, Jane Austen, J.K. Rowling and many, many, many others!
While you are here take a minute to enter my current giveaways:
The Fairy Folk and She ends 11/5
Bright Blue Miracle & My Ridiculous Romantic Obsessions ends 11/7
Trapped ends 11/9
Geek Girl ends 11/11
I Asked Her Out, She Said Yes – Now What? ends 11/13
$5 Amazon Gift Card ends 11/15
Very Hungry Caterpillar end 11/15 NEW THIS WEEK
3 Books By Michelle Erickson ends 11/15 NEW THIS WEEK
Blood of Cain ends 11/18
Free Men & Dreamers ends 11/22 NEW THIS WEEK
Beyond the Rapids ends 11/26
The Prometheus Project ends 11/27 NEW THIS WEEK
Heavenly ends 11/18 NEW THIS WEEK
Finding Rose ends 12/3 NEW THIS WEEK

Nearly New Books for You: G.W. Frog, ESPete, Fixer-Mixer & Eat, Love, Pray ends 11/9 NEW THIS WEEK

Visit my Got Great Giveaways Linky to enter dozens of book giveaways. If you have a giveaway on your site that isn't listed please add it to the linky. Book related giveaways only please!
Sign up to take part in Gratitude Giveaways – A Book Blog Follower Appreciation Hop – November 17th – November 27th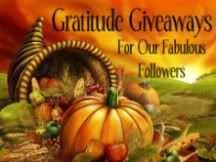 Coming in December: An Epic Event You Won't Want to Miss!
Interviews, Giveaways, Guest Posts

I always follow back so if you are a new follower be sure to leave me a comment on this post with a link to your site so I can stop by your blog and follow you back.
Hope you are having a fabulous Friday!