Thanks for stopping by!

"What is the one bookish thing you would love to have, no matter the cost?"
I'm ready to go digital. I would like a Kindle.

"If you have, or would have a daughter, what book would you want your daughter to read?"
I have 2 daughters. My oldest daughter's middle name is Anne (with an "E" of course), named for Anne Shirley from Anne of Green Gables. I'd love for her to read that series.
While you are here take a minute to enter my current giveaways:
500 Follower Giveaway with 3 Prize packs to choose from ends 11/4
Katie Up and Down the Hall ends 10/30
My SPOOKTACULAR Giveaway – Book of Your Choice, Marcia Lynn McClure Books or Choose From a List ends 10/31 NEW THIS WEEK

Restored Hope, Hidden Truths & Sorrowed Souls by Brenda Youngerman ends 10/31
Bree Despain's The Lost Saint Nail Polish ends 11/1 NEW THIS WEEK
True Miracles ends 11/3
The Fairy Folk and She ends 11/5
Bright Blue Miracle & My Ridiculous Romantic Obsessions ends 11/7
Trapped ends 11/9
Geek Girl ends 11/11 NEW THIS WEEK

I Asked Her Out, She Said Yes – Now What? ends 11/13 NEW THIS WEEK

$5 Amazon Gift Card ends 11/15 NEW THIS WEEK
Blood of Cain ends 11/18 NEW THIS WEEK
Beyond the Rapids ends 11/26 NEW THIS WEEK
Nearly New Books for You:
Short Second Life of Bree Tanner, Hurricane Mia, Saga of the Pacific Islands ends 10/30
Visit my Got Great Giveaways Linky to enter dozens of book giveaways. If you have a giveaway on your site that isn't listed please add it to the linky. Book related giveaways only please!
Enter all of the 88 great giveaways in the Spooktacular Book Blog Giveaway Hop I organized: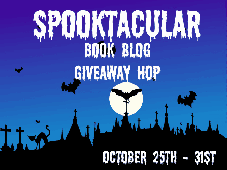 Sign up to take part in Gratitude Giveaways – A Book Blog Follower Appreciation Hop – November 17th – November 27th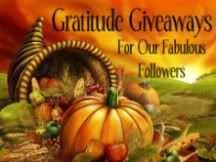 I always follow back so if you are a new follower be sure to leave me a comment on this post with a link to your site so I can stop by your blog and follow you back.
Hope you are having a fabulous Friday!