Thanks for stopping by!

When you write reviews, do you write them as you are reading or wait until you have read the entire book?
Always when I am done reading the book. Sometimes I'll mark a page or write a note about something I want to remember.

My question for you guys, what is your high fashion book? — translation — best book cover ever.
Let me think… Of the books I've most recently read I loved the cover of Paranormalcy.

While you are here take a minute to enter my current giveaways:
The Aristobrats by Jennifer Solow ends Today 9/24
The Forest of Hands and Teeth by Carrie Ryan ends 9/29
Luck of the Draw by Rachael Renee Anderson ends 9/30
The Maze Runner by James Dashner. Givewaway ends 10/3.
Escape From Rwanda by John Yves Bizimana ends 10/10
Gift Books by Carol Lynn Pearson ends 10/10
Visit my Got Great Giveaways Linky to enter over 50 book giveaways. If you have a giveaway on your site that isn't listed please add it to the linky. Book related giveaways only please!
Are you a book blogger?
Join up to take part in Gratitude Giveaways – A Book Blog Follower Appreciation Hop.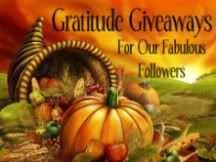 I always follow back so if you are a new follower be sure to leave me a comment on this post with a link to your site so I can stop by your blog and follow you back.
Hope you are having a fabulous Friday!